Player vs. House: Which Online Casino Games Offer the Best Odds?
When it comes to online casino games, one of the most crucial factors for players to consider is the odds of winning. After all, you don't want to dedicate your time and money to a game that's unlikely to provide a good return on investment. Games with excellent odds offer you a higher probability of winning over the long term. Winning often can make your gambling experience more enjoyable, and more lucrative. It's exciting to see your bets pay off, isn't it?
While luck and skill still play a significant role in winning an online casino game, better odds mean that you are much more likely to come out on top. TOP UK casino sites that offer games with good odds typically have a lower house edge. Among them: bet365, Grosvenor, the Vic and Rialto. This means that the online casino's advantage over you is reduced, making it more challenging for them to profit from your real money bets. Choosing casino games with the best odds can help to sustain your interest and bankroll, as you are less likely to become discouraged by frequent losses, and you're less likely to run out of money.
When it comes to online casino games that offer the best odds, where should you start?
Online Casino Games With the Best Odds
Blackjack: 0.5% (with good strategy)
Baccarat – Banker: 1.06%
Craps – Pass Line: 1.41%
European Roulette: 2.7%
Pai Gow Poker: 2.5%
Slots: 2% to 10% (varies greatly between machines)
Poker – Video Poker Variants: 0.06% to 6.26% (varies between games and strategies)
Texas Hold'em Poker: Variable (depends on skill and strategy)
Roulette
Roulette is another popular online casino game with varying odds. It involves betting on which red or black compartment of a wheel a small ball will land in, and it's an extremely simple online casino game to get the hang of. The European version of roulette, which is played in the UK, is the version that many people prefer, due to its single zero. This lowers the house edge to around 2.7%, giving you a good chance of winning. You can try your luck at the roulette wheel on websites like Betway and Unibet.
Poker
Online poker combines elements of slot machines and poker, and some variations have odds of anywhere between 0.06% and 6.26%. Games like Jacks or Better and Deuces Wild offer even stronger odds for players. The odds vary by the specific video poker variant, but some games offer a player return of over 99% when played with a good strategy. You can enjoy video poker at casinos like Magical Vegas and 10Bet.
Blackjack
Blackjack is a classic card game known for its relatively low house edge, making it a favourite among skilled players. The house edge in blackjack can be as low as 0.5% if you play with a solid strategy, giving you the chance to profit hugely if you win. As Blackjack is so popular, it's not hard to find online. You can enjoy Blackjack at a variety of online casinos such as Bet365 casino, Grosvenorcasinos, and 32Red.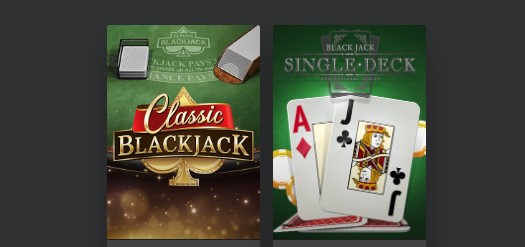 Baccarat
Baccarat is known for its simplicity and favourable odds, and it's one of the most popular online casino games due to its good odds. Betting on the banker has the best odds with a house edge of around 1.06%. Betting on the player has a slightly higher edge at 1.24%, and a tie bet has the highest edge at about 14%. If you are a fan of baccarat, check out Betfred casino or The Vic Casino, where the game is always available.
Slots
Though slot machines are often viewed as being games of chance, and they are to some extent, some of them give you a better chance of winning in the long run. Slots usually have a house edge ranging from 2% to 10%, with some slots offering massive jackpots, but with slightly lower odds of winning. Slot websites like Winomania, Spin Rio and Trada casino, offer high RTP slot machines, a variety of new slot games with good odds for players. Read a few lines about Unibet slots, strategy and free spins.
Texas Hold'em Poker
Poker is a game that combines skill and strategy, making it a favourite among competitive players, especially those with a lot of experience. While the house takes a percentage from each pot, your success largely depends on your skills and decisions. If you know how to play Texas Hold'em and you're an experienced player, you will benefit from good odds. Unibet and Betway casino are reputable platforms for videopoker games such as Texas Hold'em in the UK.
Craps
Craps is a dice game where players bet on the outcome of the roll or a series of rolls. It involves various betting options, as the person rolling the dice tries to hit specific numbers. Craps have a wide range of bets with varying house edges, and it's not hard to find good odds. For example, the "Pass Line" and "Don't Pass Line" bets have low edges around 1.41%. Though Crap is a slightly harder to find online casino game, a number of UK-licensed casino websites provide craps tables for users looking to roll the dice, including Ladbrokes Casino.
Pai Gow Poker
Pai Gow Poker is a version of poker where you aim to beat the dealer's two hands with your own seven-card hand. With a good strategy and understanding of the game, the house edge hovers at around 2.5%, making it one of the lower-edge poker games for players. As Pai Gow Poker is a lesser known version of poker, it's not available on all online casino websites, but it can be found at Virgin Games.
Keno
Keno is known for having a higher house edge compared to many other casino games. It can vary greatly depending upon the specific rules of the game you're playing, but it is usually quite high. On average, the house edge for keno games is around 20-30%. This means that over the long run, the casino operator expects to keep between 20 and 30% of all money played on Keno.
Slingo
Slingo is a combination of slots and bingo. The house edge for slingo games online can also vary quite a bit depending on the specific game and rules. Generally speaking, the house edge for Slingo games tends to be relatively high, similar to slot machines. It might range from around 3-15%. The RTP (Return to Player) would thus be around 85-97%, but this can vary greatly between different Slingo games. Try these top bingo sites, including new bingo apps such as Mint bingo and Kitty Bingo that accepts deposits from £5.
Casino Edge, Game Rules and Payback Rates
Determining the "best" and "worst" odds in an online casino can often depend on various factors including the specific rules of the games on offer, the strategy employed by the player, and the payback percentages of individual machines or games.
Choosing gambling site offering casino games with good payouts and odds of winning real money is a strategic decision worth making, and it's a choice that can enhance your overall gambling experience. If you want to place a bet that is likely to be a good return on investment, you need to choose a game with odds that are in your favour. While there is no guaranteed way to win consistently in online casino games, opting for those with lower house edges increases your chances of success, whilst ensuring that you have a nice and profitable gambling experience. Some of these casino welcome bonuses and promo codes can also enhance your chances of winning
4 Games With The Best Odds & Good Payouts:
Online Blackjack (0.5%+ with favourable rules): Blackjack typically offers some of the best odds among casino games, especially if you're using a basic strategy that optimizes your decisions based on the cards dealt. The house edge can be very low, often around 0.5% or possibly even lower with more favorable rules and perfect strategy play.
Baccarat Online (1.06% for the banker, 1.24% for the player): This is a straightforward game where you can bet on either the banker or the player. The banker bet generally has a lower house edge, making it a better choice in terms of odds. It is one of the best options if you are looking for simple games with good odds.
French Roulette (1.35% for outside bets): French Roulette offers a lower house edge compared to its American counterpart, especially for outside bets which include betting on red/black, even/odd, or high/low. The 'La Partage' and 'En Prison' rules can further decrease the house edge.
Online Craps (1.41% for pass line bets): Craps offers a wide variety of bets, with the pass line bet offering a fairly low house edge. It's a decent option for those looking to have fun with a relatively low risk.
Worst Odds:
Dollar Slot Machines (97% 'Return to Player'): While a 97% return to player (RTP) might seem high, it translates to a 3% house edge, which is considerably higher than the table games listed above. Note that penny slots can have even worse odds with RTPs often exceeding 90%, meaning a house edge higher than 10%.
American Roulette (5.26%): Not mentioned in your list, but it's worth noting that American Roulette has a considerably higher house edge compared to French Roulette. The inclusion of the "00" slot increases the house edge substantially, making it one of the worst choices in the casino in terms of odds.
What Casino Games Pay Most?
Statistically speaking, the casino game that pays the most is blackjack. This popular card game can be found at leading online casinos, where you can place various bets based on your budget. Blackjack is a game of skill and strategy. With optimal strategy and experience, you will find this game can offer frequent returns and quickly boost your bankroll. Each casino will have different variations of the game, and they can all provide great payouts. If you are new to online gambling, you can preview these titles in a demo mode. This will provide a risk-free way to learn the rules and practice some strategies before placing wagers.
Best Payout Blackjack Games to Play
If you are looking for the best odds of winning and want to have a variety of games, you can enjoy different versions of blackjack online. The best UK casinos like Grosvenor and bet365 use trusted software developers to offer top-rated games. This means there will be many choices when playing blackjack. Some casinos have more than 20 options available! Here, you can learn about the three best games that tend to pay the most.
American Blackjack – This game has the best RTP at 99.5% and is one of the highest-paying games that can be found at any casino website.
Multi-Hand Blackjack – If you want more action and the chance to win multiple payouts from one game, multi-hand blackjack is a great choice. It comes with a 99.6% RTP.
Single Deck Blackjack – This is the preferred game for blackjack enthusiasts. It has an RTP that ranges between 99.5 and 99.8%.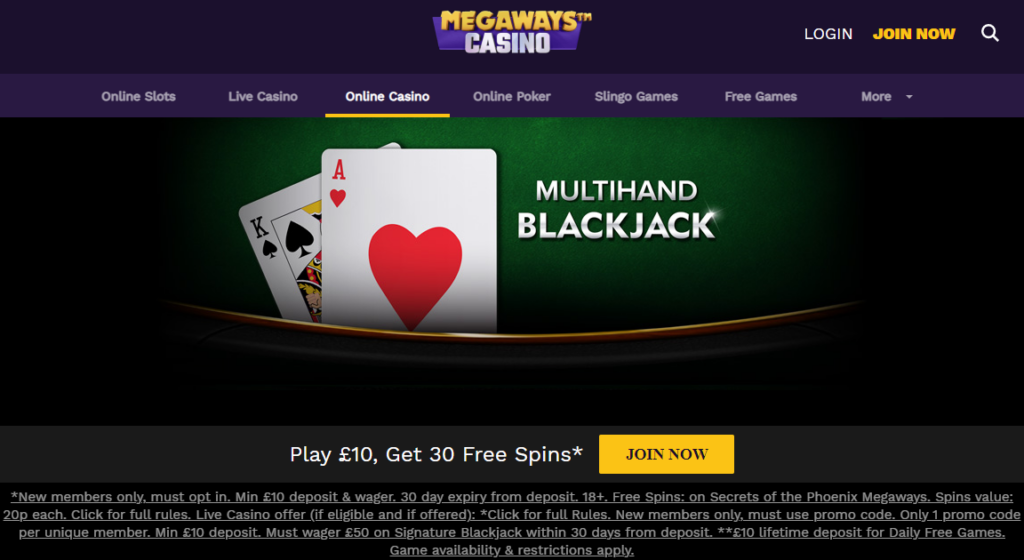 Best Paying Multi-Hand Blackjack
Multi-hand blackjack gives a RTP on 99.6% RTP, here are the best casino with multi-hand blackjack games available online. As the name suggests, this title gives you up to five chances at hitting 21 in just one round! The ability to play up to five hands in a single round means five more chances to land a blackjack. Good casinos with Multi-Hand Blackjack are MegaWays Casino, Virgin Games and Bet365.
Casino Bonuses To Improve Odds
| | |
| --- | --- |
| Luckster | £200 + 100 Free Spins |
| Bet365 | Stake £10, Get 50 Bonus Spins. Promo Code "365GMBLR" |
| Mr Play | Get 100 Free Spins + £200 Deposit Bonus |
| Spin Rio | Get up to £200 + 100 Free Spins |
| 10bet | Deposit to Get 50% of up to £100 Bonus + 50 Free Spins |
| Betway | Play With 100 Free NO Wager Spins |
| Magical Vegas | 100% deposit match up to £300. Bonus Code: MVCGMBLR |
| 32Red | Claim 150% up to £150 |
Games to Avoid
Not all blackjack titles will provide you with the best odds of winning. It is important to take time to review game rules and the verified RTP online casinos when selecting a title. Games that offer a blackjack that pays 6:5 instead of 3:2 should be avoided. This increases the house edge by up to 1.4%. As you compare game rules, here are some other things you should look for. When possible, avoid any title that makes use of these rules, as they will all increase the edge and lower your odds of collecting payouts.
Dealer hits on a soft 17
No doubling allowed after split
Double on specific hands
No surrender option
No re-splitting of Aces
High number of decks used
Imrpove your odds by learning more about new casinos such as Winlandia and Jaak, good slot sites that pay the most and use these details on the latest offers, including sites with good cashback offers, no wagering bonuses and 150% and more deposit match deals.
What Casino Games have the highest payout?
Blackjack is known for high payouts, the best games with high RTP are for example American Blackjack, Multi-Hand Blackjack or Single Deck Blackjack.