Best Online Casino Daily Bonus Drops & Wins
Play like a king, use casino drops and wins bonuses in 2023!
A daily bonus drop and wins is a type of promotion provided by certain online casinos that offers existing players a rewarding chance to receive a special offer every day.
Daily bonuses can be used on a variety of games and help players win more payouts on leading titles. There are some great UK websites featuring daily bonus drops, and all you have to do to take advantage is be a registered member!
Bonus Drop: How Bonus Drops&Wins Work
Each casino will have a different way in which players can claim these types of bonuses. Some sites will simply require you to visit the website every day. This can be for a small amount of funds or some free spins to use on leading slot games.
Other UK casinos will require players to play specific games in order to qualify for a drop. As they play these games, they will earn tokens. Tokens can be used to enter the bonus drop and receive the daily offer. There are also some sites that will provide this bonus when you make a small qualifying deposit.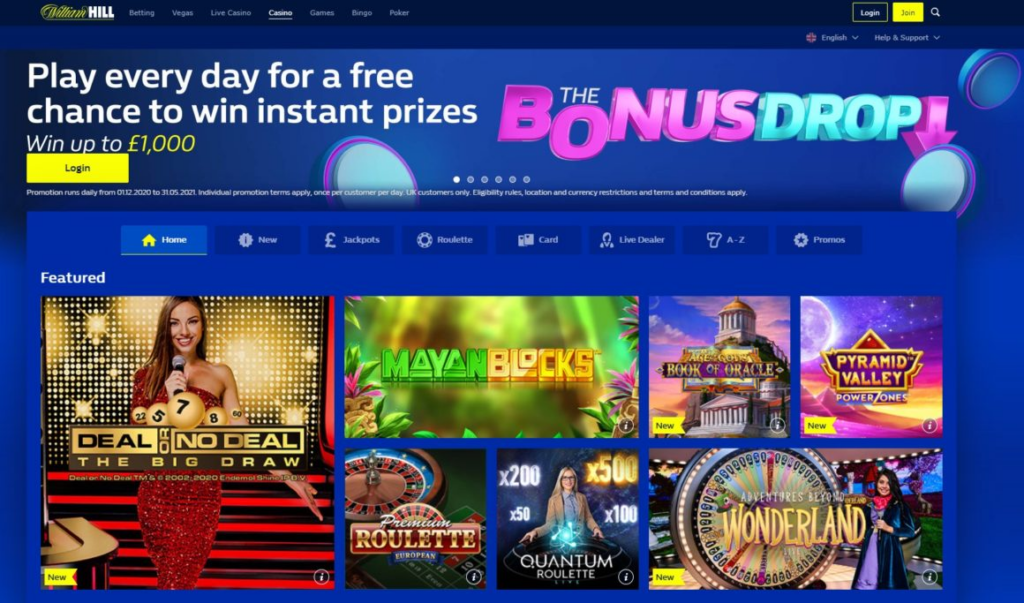 Bonus Drop Terms
One of the great things about daily bonus drop promo is most sites will not have any wagering requirements that need to be met. This means that as soon as you use the bonus money or spins and collect a payout, you can instantly withdraw any winnings. If the casino has wagering requirements in place, these must be completed before you can request a payout.
As with all casino promotions, there will be other terms in place. These can restrict which games are played. Be sure to check the terms and conditions of each daily bonus drop before redeeming. You will learn about the maximum bet that can be placed, as well as the maximum cash-out value of the offer. Players must adhere to all terms to complete the bonus and be able to withdraw what has been won. If any terms are violated or wagering requirements are not met, the offer will be void and any payout collected will be removed from the player's account.
Casinos with the best bonus drop bonuses
Check these UK casinos offering a bonus drop daily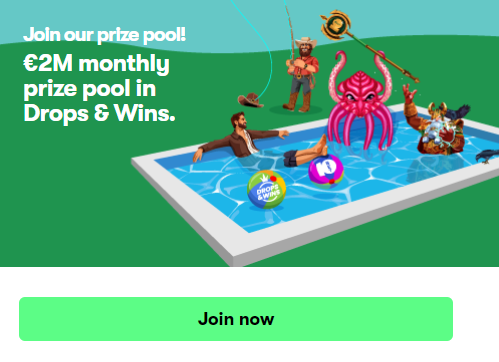 Here's how bonus drops and wins at 10bet online casino works:
Log in to 10bet casino & open any of the qualifying games (Find them in our Drops & Wins section)
Click the game's spin button to open Drops & Wins Opt-in window and click 'Join all' to get the party started
Collect daily random cash prizes & win the weekly tourney's grand prize when scoring the highest win in a single spin
Drops and Wins FAQs
What are Drops and Wins bonuses?
Drops and Wins are bonuses offered in certain online casino games. These bonuses consist of cash prizes that "drop" at random during your gameplay, and tournament prizes (Wins) based on your rank on the leaderboard.
How can I participate in Drops and Wins?
To participate, you must opt-in within the game interface of eligible games. You then play the games as normal, and could potentially receive a random cash prize, or earn a high rank on the leaderboard for significant rewards. The games that qualify for Drops and Wins vary depending on the casino and the specific promotion. Always check the terms and conditions of the promotion to see which games are eligible.
What are the prizes in Drops and Wins?
Prizes in Drops and Wins typically include cash rewards that can range from small amounts to thousands of pounds. The "Wins" part of the promotion refers to prizes won through leaderboard-based tournaments, where the prizes can be even larger. "Drops" winners are determined randomly – a cash prize can drop at any time during your gameplay. "Wins" are typically determined by your position on a leaderboard, which is usually based on the amount or size of your wins on the eligible games, including online slots or table games.
Are there any restrictions on Drops and Wins?
Yes, there may be restrictions. For instance, you may need to opt-in to participate, there may be a minimum stake per spin, and there will be specific start and end dates. The promotion may only be available on specific games. Always check the specific terms and conditions of the promotion.