The football community was starved of action during the COVID-19 pandemic, emerging on the other side with an insatiable hunger for the sport, along with all the betting opportunities that come with it.
That's why now, more than ever, it's important to ensure we as fans are making the most informed decisions possible when we wager and predicting football matches, including English Premier League games and World Cup 2022 —and a little entertainment along the way never hurt anybody.
The betting podcast is a growing sub-genre in the football audio-sphere, with an increasingly competitive landscape in the battle for territory around this part of the industry. Many channels and companies put out sports betting content geared towards the casual gambler, but only a select few are worthy of your time.
Free podcasts about betting on football
Matchbook Betting Podcast
Listen on Soundcloud
Setting the industry standard in this arena is the Matchbook Betting Podcast, which puts out regular content featuring input from some extremely informed boffins.
Among those presenters and guests are Mark O'Haire, Adrian Clarke, Ian Broadrick, Phil Kitromilides and Aidan O'Sullivan, who regularly contribute towards fun but enlightening episodes.
Born from the Matchbook Betting Exchange, the company's podcast was named 'Best Betting Podcast' for the third straight year in 2021, as judged by the Smart Betting Club:
The Matchbook Betting Podcast stands out most for its polished feel and the quality of analysis, though the personalities also make it an enjoyable, easy listen for the general sports fan.
Football Betting Podcast
Listen on Soundcloud
One of the weekly shows whose following doesn't quite match the quality of its tips, the Football Betting Podcast does exactly what it says on the tin.
What it lacks in production value, the Football Betting Podcast makes up for in analysis and detail, which is all many listeners look for when seeking out tips for their weekend bets. Here, you may not get as many laughs as you would with The Football Ramble, but then that's not the main remit for regular hosts Tom Pipkin and Tom Walker.
Released every Friday, the Football Betting Podcast focuses on the top four flights of English football, which may be the main bugbear for those seeking a more cosmopolitan look across the sport in Europe.
That being said, that focus on the Premier League and the divisions immediately below may be precisely the niche many are searching for in their bet-building habits.
Trademate Sports Betting Podcast
Listen on Spotify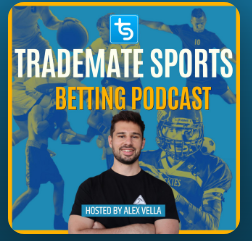 The Trademate Sports Betting Podcast was born from the website itself, which offers bettors a tool that identifies when bookmakers have overpriced certain markets (for a subscription fee).
With that background in helping its users outsmart the sportsbooks, it's no surprise that their podcast content is similarly focused not only on good bets, but how to be good at betting.
Presenter Alex Vella will regularly be joined by market insiders and professional gamblers.
The Trademate Sports Betting Podcast isn't restricted to football, either, as profit is the primary objective of its creators, regardless of the sport in which opportunities arise.
Multiple podcast episodes are released per week, covering European competitions, domestic leagues and regular betting tips.
Sporting Life Football
Listen on Spotify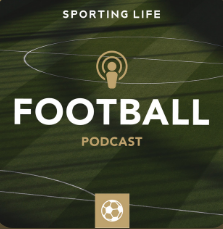 A fantasy football podcast at its core, Sporting Life Football tends to exclusively cover the Premier League in its weekly output, although conversation can often stray further afield as well.
With that nucleus regarding who you should be picking for your team, the show inadvertently functions as betting tip content in a way, simply with a finer focus on players over teams and leagues:
Episodes are released weekly and cover England's lower divisions along with its top flight. Sporting Life do a fine job of making their contest an easy listen, though the bet analysis lacks the same depth as some of its competition.
Soccer Gambling Podcast
Listen on Spotify
The premium choice for listeners in the United States, the Soccer Gambling Podcast is the only entry on this list that will be caught using the 'S' word in a football context.
Part of the Sports Gambling Podcast family, the Soccer Gambling Podcast covers a comprehensive helping of football from across Europe's major divisions. With multiple episodes released every week, the podcast features separate programmes specific to each league including 'The EPL Show', 'The Champions League Show' and 'Däs Bündesliga Show':
It remains to be seen whether that coverage will diversify more in future, with La Liga and Serie A the obvious picks for further programming, but the content is extensive as things stand.
The Trampled Bet
Listen on Spotify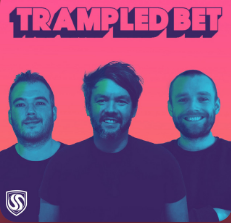 A must-follow for Scottish football fans, or for those simply seeking a less serious approach to picking up their betting tips in time for any given weekend.
Hosts John Walker, Andy Vaughan and Gordon McLarnon are the trio behind The Trampled Bet, a podcast that delivers well-researched information in an often hilarious package.
Like with most podcasts, the Scottish bunch do a great job in covering Europe's bigger leagues, but The Trampled Bet sets itself apart with tips that come from anywhere across the globe, as long as there's value to be had:
As if the presenters were likeable enough for their weekly show, they also feature one 'Charity Treble' aimed to reward listeners who already do their bit for positive causes.
And, of course you can always listent to talksport.com/podcasts: professional comments, interviews, betting tips ahead of major football games, important talks about latest results, transfers and more good talks.