Like playing the stock market, the objective of the new fad of crash gambling is to buy low and sell high. However, again much like the playing the stocks, too often people hang on too long and their investment crashes and burns.
Crash gambling first began emerging as an available game at online gambling sites and really soared into popularity in 2023.
Playing crash gambling couldn't be more simple. As an icon rockets upward through a grid, a multiplier is growing exponentially. Upon entering the game, you must first determine the amount that you will be wagering. Next, you need to decide a what point in that grid to draw a line where you will cash out.
If your cash out line is lower than the ultimate crash value of the game, then you will be a winner. You will get back your original investment plus the current multiplier at the point of your cash out decision. On the other hand, should the crash come before the line climbs to your cash out point in the grid, then your bet is a loser.
Crash gambling games are popular with crypto currency casinos, although there are numerous crash gambling online sites offering real money games played with fiat currency as well.
Best UK Crash Gambling Sites
Stake.com
Barz
bet365
SpinYoo
BetVictor
The Vic
Once you've made the decision to give crash gambling a try, the next step is to find a suitable betting site that is offering crash gambling games in the UK in 2023. Stake.com, bet365, Barz are some of the most popular crash gambling sites available to UK crash gamblers. View free bet offers and casino promotions here.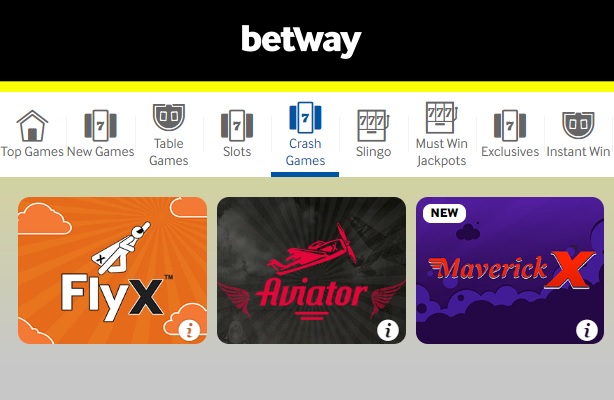 Which UK Sites Offer Crash Games?
Betway Casino: The site stands out as one of the select gambling platforms providing UK players with the opportunity to engage in real money crash games. Although the collection of these games is somewhat limited, featuring just five titles including FlyX, Aviator, and Maverick X, the excitement is far from small. As an added advantage, Betway offers new crash gamblers an impressive offer of 100 no wager bonus spins, creating a compelling reason to join this dynamic gaming platform.
Stake.com: There are crash gambling games starting every five seconds inside the online casino at Stake.com. The betting site offers both manual and auto bet play. A live leaderboard showcases all bets made on each game. The multiplier can climb as high as 1,000,000x the stake.
Barz.com UK: At Barz casino, they offer crash gambling play on the Aviator Game. with this version, an old-time daredevil airplane soars skyward. Players must decide when to get off the plane before it crashes in order to cash their best as a winner. This game also features a built-in chat feature.
Bet365: Designed by Evolution Gaming, Cash Or Crash is the chosen crash gambling game inside the Bet365 online casino site. This game is set aboard a blimp cruising above a bustling metropolis, Cash or Crash features just one bet and the chance to keep moving up a 20-step ladder-style paytable, with payout as high as 50,000x the stake. Read more about bet365 bonus code terms.
SpinYoo Casino: Pragmatic Play's Spaceman is the crash gambling game of choice ot play at the SpinYoo Casino. In this game, it's an animated astronaut who is soaring into space. As he climbs on his space walk, the multipliers are also climbing. But you need to get out before he crashes in order to be a winner. It offers a 50% cashout option. Cash out for 50% of your stake at any point and keep playing with the remaining 50%.
BetVictor: At casino BetVictor, UK players can get their crash gambling on via Aviator. While playing the Aviator game, the higher you climb, the greater the payouts. Propelling you skyward is a ball drawing machine that selects coloured balls at random. Green balls advance you up the ladder, while a red ball crashes you out of the game. Gold balls provide insurance protection from the next red ball drawn.
Try Alternatives to Crash Gambling – Real Money Gaming Sites With UK License
Gaming Sites
Bonus
Sign Up
Simplistic Crash Gambling Rules
Unlike many online casino games that are ensconced with myriad rules, game play in crash gambling is about as simple and straightforward as it gets. Put in a wager and pull it out when you feel is the appropriate time. That's it. Those are the rules.
In general, the multiplier in a crash gambling game launches at 1x. It can climb up to 1000x or even 1,000,000x. Suppose your bet is £10 and when the cash out comes, the multiplier sits at 7.75. That would mean at the point of your cash out, the payout to you would be £75.50.
Crash Gambling Strategies
You would think that with such a simplistic format and what is basically a game of chance with an entirely luck-based outcome, there wouldn't be much in the way of strategic wagering that can be employed during crash gambling. However, that's not the case.
You can opt for a more conservative strategy where the game plan is to continually cash out low. With this style, you won't be making big scores but should be reaping smaller payouts on a more steady basis.
There are two betting methods that can be used for crash gambling. Manual betting enables you to set your bet amount, as well as teh cashout value you choose to risk. When making this wager, the cash gambling site will advise you of the profit you will be due should your bet cash as a winner.
The second option is to go the auto bet route. If you're choosing to follow this pattern, it's best that you have a strong understanding of bankroll management prior to placing any wagers. Auto bet enables you to establish a cash out line ahead of time to a desired multiplier. You can set this for as many games in succession as you desire.
UK Crash Gambling FAQ
How does crash gambling work?
With crash gambling, a rocket moves up a grid as a multiplier continues to increase. At some point determined by a randon number generator, the rocket will crash and the game ends.
How do you win at crash betting?
You choose a stake to bet and a point on the grid at which to cash out. If that cash out comes before the rocket crashes, you're a winner. You will be returned your original stake, times whatever multiplier at which you chose to cash out.