The William Hill Plus card is another startling innovation from one of the UK's leading bookmakers. With the recent trend towards online betting, there is often a yawning gap between a punter's online and shop-based activity. William Hill wants to close that gap and their Plus Card goes someway to doing that. 
How to use William Hill Plus Card?
The Plus Card is a physical card and is carried around by bettors. It can be used in any William Hill betting shop.
What are the Pros to using a William Hill Plus Card?
Primarily, the William Hill + card allows players to transfer and mingle all their online and their betting shop wagers. Because many punters use betting shops as well as the desktop and mobile versions of their chosen site, Hills believe they should be able to access them all "under one roof". 
Any bets placed in a William Hill betting shop can be cashed-out on the player's mobile phone, courtesy of the Plus card. Additionally, all the relevant stats and scores can be accessed, putting the punter in control of his or her bet.
William Hill also uses the Plus Card to give punters regular Free Bets and other offers, such as Price Boosts and acca enhancements.
With a Plus Card by William Hill, you can now withdraw any online funds (deposited via a debit card or via an e-Wallet facility) as cash in a William Hill betting shop. Likewise, punters can use the funds to place in-shop bets without having to find an ATM and withdraw cash. This "streamlining" of all aspects of the William Hill betting operation, all into one card, is a fantastic enhancement for bettors. It may even go some way to securing the future of High Street betting shops, whose fortunes have been so badly hit by the global pandemic. 
The instant access to winnings is also a major plus, as online debit card withdrawals can take up to 5 working days. Cash in hand is instant!
Alternatively, if you prefer to play at Coral, use Coral Connect app and card.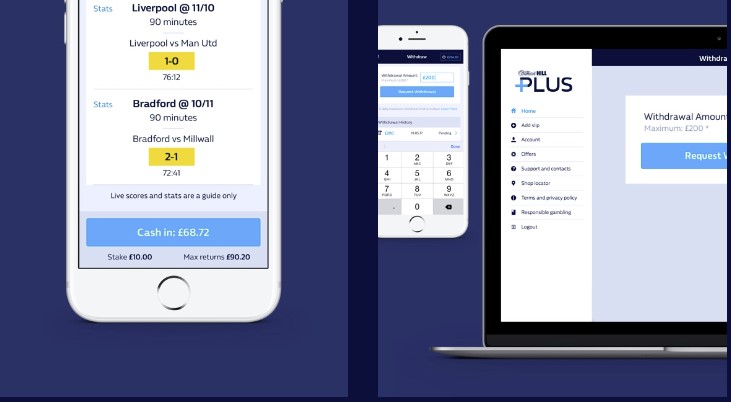 Are there any cons to the William Hill Plus Card?
All bonuses and promotions accessed via the Plus Card expire within 30 days, so punters need to be aware of this or they may lose out on them.
Also, it can take up to 30 days for a player to receive their Plus Card after registering, so you will need to be patient to take advantage. Other than that, however, this is a fine innovation and should prompt other bookmakers to follow suit. 
Use William Hill Plus Card for WH slots, caisno, betting and bingo sites.
Cash in shop bets on your mobile casino app:
Live scores & in-game stats
Free bets & regular offers
Use your online funds + withdraw & deposit in shop
Cash-in your shop bets anytime on your mobile
William Hill + Card FAQ's
Do I actually get a physical card?
Yes, the William Hill Plus Card is exactly the same shape as a regular debit card and can be carried easily in a wallet. 
How do I use a Plus Card to get cash in a William Hill betting shop?
Simply take your card up to the counter and ask a staff member to process the payment for you. They will then transfer the requested amount to your bank account, or debit the amount required to place your in-shop wager.
Can I use my Plus Card at a William Hill terminal in a shop?
Yes, simply scan your card at the scanner and then place your chosen wager. 
How do I get my William Hill Plus card?
Once you have registered online, wait 30 days, and then go into any William Hill betting shop and ask for you card. You will need your log-in details and some photo ID.