World Cup Winner LeBoeuf states that up front is the only position Chelsea are lacking.
Following a busy week for Chelsea which included a penalty shoot-out defeat to Liverpool in the Carabao cup final, followed by the up-for-sale announcement, BritishGambler.co.uk caught up with former Blue and World Cup winning centre-back, Frank LeBoeuf.
The both ball-winning and ball-playing centre back declared that Chelsea have to solve their crisis in the 'cursed' number 9 position to be able to bridge the gap to Manchester City and Liverpool next season. LeBoeuf added that the FA Cup is a distinct possibility for Chelsea, but that winning either the Champions League or the Premier League this season seem a step too far.
The 1998 world cup winner also spoke about his man-marking duties on Ronaldo for the final, saying that the game went a lot smoother than he imagined it 24 hours prior. LeBoeuf also touched on the latest news of Chelsea being put up for sale, and what this means for a club that has experienced its biggest era of success on the pitch.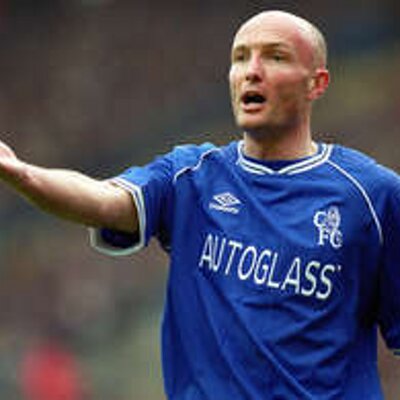 What are realistic ambitions for Chelsea this season, and is a Treble possible?
The FA Cup is possible, they have lost the last two finals and it's an important competition for Chelsea – they've won the third most FA Cups of any team after Arsenal and Manchester United – so it says a lot about the target that winning the FA Cup means to the club.
The Champions League is more complicated. Except for Real Madrid, nobody has won it twice in a row and I don't think it's possible, but miracles happen. It was already a miracle that they won the Champions League last year with the change of manager halfway through the season.
I think it's too late now for them to win the Premier League – it would take Manchester City losing too many games and with a perfect rally from Chelsea winning all their remaining games, which I don't think is possible for them to do.
Do you think Manchester City will beat Liverpool to the title?
I'm not sure, because Liverpool are coming back and are in such a good mood and such good form at the moment, and I believe that Liverpool are capable of winning everything, because they have the squad to do so. Klopp decided to rest about 10 players for the match against Norwich, and they did the job!
Liverpool is really leaning on their stamina. The players are all about heart and what they can give to the club. They have fantastic players, a fantastic squad and are capable of fighting until the end against Manchester City.
Who is your pick for the Champions League?
Liverpool, Man City or Bayern Munich. Man City are dying to win the Champions League – I think if you asked every City fan if they would rather win the league or the Champions League, they would all say the Champions League.
I think that Liverpool can win the Champions League and you only have to look at their history in the competition. Chelsea might have a recent history with the Champions League, winning twice within the last 10 years, which is fantastic for the club, but Liverpool have the history from when I started following football, with players like Keegan, Dalglish and Fairclough. I worked with Stevie Nicoll, and he talked about the Champions League being in their genes, being in their blood. He talked about the Champions League when they were losing 3-0 at half-time and came back; he said because the Champions League is in their genes.
And that's why you can never say Liverpool is about to lose, and you can never say that Liverpool aren't able to win the Champions League.
Top four predictions?
I think Chelsea have to fight for third. I think Arsenal will finish fourth ahead of Manchester United, because Arsenal seem to have got their mojo back whereas I don't know what's going on at Manchester United. I think people at the board have forgotten how the club was built, and what made the club famous; it's their young players.
The Busby Babes were all kids from the club. The famous Treble winning team from the 90s were all at the academy, and when it didn't work at the club, Ferguson put Nevilles, Beckham, Scholes and Butt in the team, all fantastic players who became very famous and won everything.
But now it's about who you play, what kind of names they buy and spend crazy money on, whereas the essence of the club is actually from within, from the academy. Elanga may not be from England, but has come through the academy and has shown his talent – that's what United have to look for, and what they need to find to get Manchester United back to its prime. Arsenal have that now, and that's why I think they'll finish fourth ahead of Manchester United.
The future is in the academy. It has always been like that. Even if they have big stars, they have to be surrounded by the people who grew up at the club. Ronaldo was at the club before, but he was with players that grew up at the club like Nicky Butt, Paul Scholes, the Nevilles – people who understood the meaning of growing up at Manchester United. But now, I don't think there are other players at the club who have that.
Declan Rice grew up at the Chelsea academy, would you like to see him come back to Chelsea or are there other players that Chelsea should be looking at?
The main concern with Chelsea is the up front. We thought that buying Lukaku would be the solution, because he would score more goals and it would all be fine and that it would solve all their problems.
The goalkeeper Mendy is probably the best keeper in the world. In defence they are very solid even though they've conceded a few goals, but Tuchel has had to change personnel through injury but otherwise they're very strong, and have had Reece James and Chilwell out for a long time through injury. In the middle, no one can. Say that Kovacic, Jorginho and Kanté don't do their jobs and are all fantastic, so you have to wonder what the point would be in getting Declan Rice if those three players are in that kind of form, so it's really up front that they need to change something.
The players that they have, such as Lukaku, Havertz, Werner, Mount, Pulisic Hudson-Odoi is huge – but there's a lack of confidence. I love those players but have to criticise them when they can't find the back of the net – look at the Carabao Cup final and how many chances they wasted.
What about dropping Lewandowski into the Chelsea team up front? Surely Chelsea would be challenging for the title then?
Absolutely, but they have to find the right person to play up front. We thought Lukaku would be the right man, especially with the season he had at Inter, and he's such a fantastic player. But he's not served properly, especially with James and Chilwell out injured, Lukaku isn't getting the crosses. But Lukaku doesn't create his own chances like he was doing at Inter, because of his lack of confidence.
I don't have the solution. I don't know if Lewandowski came right now, if he would score as many goals as he is currently scoring for Bayern Munich. It seems to be a cursed position up front for Chelsea! But we all know that the one area that Chelsea need to improve, is the number 9 position, because otherwise it's a fantastic team.
Your fellow countryman Paul Pogba is out of contract this summer – he plays incredibly well in the French national team alongside N'Golo Kanté, and with Jorginho or Kovacic also able to play behind him; would Chelsea actually be the perfect fit for Pogba?
It's absolutely fantastic to see what you can do when you have Pogba in your team, because we all know the talent that he has when he has the ball. The problem is as a coach and what do you do when you have Pogba in your squad?
The only time that he was consistently fantastic throughout a whole season, was when he played at Juventus. For that season, he was completely free to do whatever he wanted, because he had players supporting him in that manner. Yes, the France national team is similar, but when it is only one player in Kanté, I still think the national team is unbalanced, so you need two defensive midfielders in order to release Pogba.
Does it make your team unbalanced? Yes, I think so. Either you buy Pogba and build the team around him to give him the freedom to show his talent, where you protect the midfield zone. Or, you don't take him, because he's too risky.
Even if you think he does really well with the France national team, we still have this debate as to whether Pogba should play or not. Because there are question marks everywhere that Pogba plays.
If I was a coach, I don't think I would take the risk of signing Pogba, but at the same time, how could you not want him with the talent that he has?
I was talking the other day as to whether Lukaku should play against Burnley or not. As a coach you have to manage a dressing room of 30 guys. But when you have a striker who cost £100million, you think I have to have him out on the pitch, but you lose the others. You have to make sure the star is happy, but also that the second tier is happy. I can see that the dressing room was easier to manage without Lukaku last year. Imagine if you added Pogba to that problem – you might destroy the dressing room.
As logical as Tuchel is, he won't take the risk on Pogba. It's too risky. Someone like Zidane can do that – that's why PSG are trying to hire Zidane. They know that only a person like Zidane can sort out the dressing room problems out.
Messi seems to have been somewhat underwhelming. Are PSG fans back in France a bit let-down by Messi because they would have expected so much from him?
Yep, because they have seen Messi for so many years at Barcelona being absolutely fantastic. But he was at home. We live in a world of immediate gratification where people want results immediately. Even Messi needs time to settle in and he's doing that now. He's not young anymore, so we don't know if PSG are getting 60% or 80% of the Messi we saw at Barcelona – exactly the same with Cristiano Ronaldo at Manchester United now.
Messi has had some good games where he has done pretty well. Of course, we are waiting for him to deliver in the Champions League. We can also talk about Sergio Ramos, Neymar – there's only one player offensively who has consistently delivered, and that's Mbappé. Imagine PSG fans booed him at the beginning of the season! He has stayed, he has stepped up and is the only one scoring goals like crazy. We might have to wait for Messi, for Neymar, for Ronaldo to deliver – we don't have to wait for Mbappé to deliver. Mbappé is just a genius.
You man-marked Ronaldo in the World Cup Final in 1998. Is that the hardest task anyone could be asked to do in world football?
It was incredible. I knew that if Ronaldo hadn't played or if he went to another area of the pitch, I'd end up marking Rivaldo, who had won the Ballon d'Or, or Bebeto, or Romario. It was crazy. It was a hell of a Brazil team, but we felt so invincible as a team that year, that I didn't let it bother me. We were told on the morning of the final just before noon that Ronaldo might not play – we simply said that if it's not him it will be another talented player who would create problems.
My only concern with Ronaldo, was to know where he was when we had the ball. Normally you lose contact with Ronaldo when you are thinking about your game when you have the ball, and that's when he can become isolated and wide open to receive the ball when they won it back. That was my concern. Always looking at where he was. So that I could deal with his pace, his talent, his creativity. I had a hard job, but it was certainly easier than when I was thinking about it the day before the match!
I'm sure Ronaldo could have been a devil on any other day that I played against him before or after that World Cup final, because he was a nightmare to every centre-back he played against!
What do you make of the situation with Roman Abramovich putting Chelsea up for sale?
The only thing I know is that the biggest period of history and success for Chelsea, has come under the ownership of Roman Abramovich, and you have to give credit to him for that. The sale is going to be a long process with the money involved – it's not going to be easy to find someone with the money, maybe it will be a consortium or something like that.
I don't think Chelsea will die
But it's very sad to see what's going on at the moment. We want to see peace come back to the world and I'm very behind the Ukrainian population, and I think Chelsea and Abramovich have all made it clear that they are behind Ukraine and that they want the war to stop. I want the club to survive the problem and I don't think Chelsea will die, and someone will take over if Abramovich leaves the club, but there are bigger matters than the life of the club because we are in a time of war.
Do you think Chelsea fans will always admire Roman Abramovich purely based on the success that he has brought to the club on the pitch?
Yes, and I have seen on social media that fans have thanked him because they won't forget what he brought. He brought money, money talks and money allowed Chelsea to become successful to buy fantastic players who have been fantastic to the club.
I started with players like my friend Zola, Vialli, Petrescu, Di Matteo, Mark Hughes, Dennis Wise, and we started to win stuff. Without us maybe Chelsea wouldn't exist at that level. But when Abramovich came, immediately the club went to another level.
What's your ultimate 5 a side team from the players throughout your career?
I'd play a defensive team, because I know if you defend well you're going to win games. You can ask all professional players from their time playing in training, if you play all offensive players against defensive players, they will lose because they don't like to defend!
So, Fabien Barthez in goal, Marcel Desailly alongside myself, with Zidane and Zola in front. And the crazy Wise to come on in front of me to destroy everyone!
Check out UK's best betting apps, like bet365, find latest free bet offers ahead of World Cup 2024, betting codes or go to our casino section to use these sign up bonuses. Try these new casinos as well.
More options for football betting here:
Bookmaker
Bonus & Free Bets
Place A Bet