Sports betting and online casino giant Bet365 and iGaming creator Sports Information Services (SIS) are combining to bring the excitement of the UK lottery to the Bet365 betting site and bet365 casino.
Bet365, the world's largest online betting operation, is pairing with SIS SIS, owner of the 49's Live Numbers brand, to build and operate its new Lotto365 offering. SIS is developing an exclusive live draws product that will anchor bet365's overall lottery product offering.
We are very pleased to be partnering with bet365 to deliver this exciting new project," Jessica Mills, Head of Product Proposition at SIS, said in a statement. "Our 49's Product team has worked very hard to support the creation and development of Lotto365."
Recently, Bet365 became the first online betting house to stream SIS's market-leading 49's fixed odds live numbers product. This latest launch should only serve to enhance Bet365's continued developing presence in the lottery products section of iGaming.
"Lotto365 reaffirms our commitment to investing in a high-quality lottery portfolio," Bet365 said in a statement. "It's a key product for many bettors within the Bet365 group, and this new offering will be highly appealing."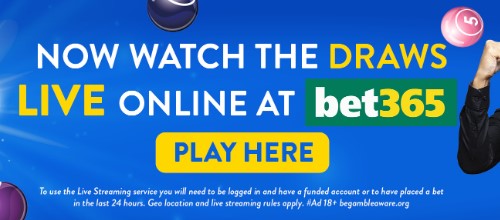 How Does Lotto365 Work
Lotto365 will be delivering a live draw every five minutes over the course of 23 hours each and every day. These lottery drawings will be conducted, created and streamed from the SIS broadcast studios in Milton Keynes, UK.
In addition to the main draws, the live product will be offering customers the opportunity to wager on prop markets such as the colours of balls drawn, which are yellow, white, and green in-line with bet365's existing branding, as well as odd/even numbers.
Players can opt to include bonus balls in the draw, which are entered when filling out their online coupon. Players can add bonus balls when filling out their online coupon and determining the amount of their wager. It's also possible to add extra lines to a play. There's also a lucky dip option, in which numbers are chosen for players via a random number generator.
Game plays include straight, combination, bonus ball number, bonus ball colour, first number drawn, total value, first number drawn odd/even, HiLo, and odd/even.
"The launch of Lotto 365 is testament to the outstanding reputation and heritage of our 49's product portfolio, which has been delivering high quality and reliable live numbers draws for over 25 years," Mills said. "It's been a real team effort with bet365 throughout this project and we're confident that the product will attract a wider audience of players."
Lotto365 Game Types And Prize Winnings
The 'pick five from 36' format provides players with the chance to win up to £100,000 from just a £1 stake when all five numbers are correctly drawn. There are also many smaller prizes up for grabs, even if only one matching ball is revealed.
Payout on one number is +650 the player's wager. From there, it goes up to +6600 for two numbers, +70000 on three numbers, +1000000 for four numbers and +15000000 if they hit on all five numbers. When bonus numbers are added to the drawing, payouts are as follows: +500 (one number), +4400 (two numbers), +44000 (three numbers), +50000 (four numbers) and +5000000 (five numbers).
Where To Find Lotto365 Results
All lottery results will be available on the 49s.co.uk web page. Data available on the site will make it possible for players to view recent results, discover the hot and cold balls, and search for statistics relating to individual ball numbers.
"SIS and 49's have a long history of producing best-in-class lottery content and SIS were the partner of choice to support the development of Lotto365," Bet365 said in a statement.
Lotto365 is currently only available in English but will soon be streamed in multiple languages.
Lotto365 Bonus
Are there any promotions to the new online lottery customers at Lotto365? Currently, none, but we do hope that there will be some types of bonuses and incentives. For now, use bet365 bonus code 365GMBLR to get free spins and bet credits. T&Cs apply.