Since lockdown restrictions have lifted, many of us are now able to scratch that travel itch we've been feeling for so long – but where should you go next? Las Vegas is internationally renowned for being a popular holiday hotspot. It boasts an abundance of extravagant hotels, an extensive selection of fine dining restaurants and bustling bars, designer shopping outlets, and of course, its plethora of casinos and gambling options.
Travellers from all over the globe descendon the neon-soaked Strip for a taste of quintessential Las Vegas, and ultimately, the trip of a lifetime. Situated in Nevada in the south-west of the United States, Las Vegas requires a long, potentially expensive, flight from the UK, and there's an eight hour time difference to contend with too. There's no denying that Sin City offers it all, making the gambling journey worthwhile – but it's not the only location of its kind. In fact, there's a whole world out there to explore, and many corners of the globe offer a similar Vegas-style experience.
So, where should you head to on your next gaming getaway?
Our latest campaign takes a closer look at some lesser-known gambling destinations which could give Las Vegas a run for its money, while offering you more bang for your buck.
We've created a unique scoring system to compare and contrast 9 alternative locations that boast similar qualities to Vegas. We have collated data right across the board, including the average cost of a return flight, the average temperature and even the average price of a beer. We have also taken monthly Google search volumes into consideration, as well as Instagram hashtag popularity, to help give us an overall picture of which locations could be a great alternative to visiting this part of the Battle Born state.
Check out the rest of our research below to see how each casino gambling destination ranks against Las Vegas…
The cost of travel
For those of us who live in the UK, travelling to Las Vegas requires a long-haul flight, and you can expect to be in the air for around 10 hours 40 minutes if you're flying from a London-based airport. In order to land stateside, the average cost of a return flight from London Heathrow to Las Vegas is £1,756 per person.
If an expensive, long-haul flight doesn't appeal to you, why not see what's available on your own doorstep? London ranked top for low flight cost – because there's no need to even board a plane.
The UK's capital offers its own kind of pizzaz, just like Las Vegas, and the chances are you can get there by bus, train, car or even on foot if you already live in the city itself.
Our data also shows Monte Carlo as being an affordable alternative, with a return flight costing just £87, while a return flight to Amsterdam would set you back slightly more at £151.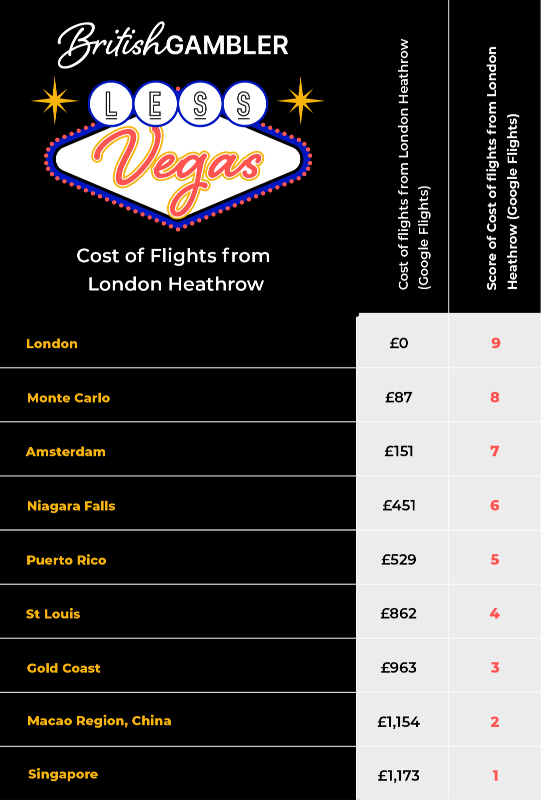 The cost of accommodation
From our research, we discovered that the average cost of a hotel room, per night, in Las Vegas is £71. Our data shows that Macau is a great alternative, taking pole position when it comes to affordable casino hotel costs. You can expect to spend £68 on average, per night, when visiting this region of China. This is closely followed by Puerto Rico, which has an average nightly hotel cost of £81.
The weather
As the weather in the UK starts to cool, Vegas remains as hot as ever. The average temperature in Las Vegas during September is a sweltering 36°C – it is the desert after all.
Not far behind Vegas, Singapore boasts an average September temperature of 31°C, making it another prized destination if you're eager to soak up the sunshine. Meanwhile, Macau and Puerto Rico aren't far behind, both offering average temperatures of 30°C.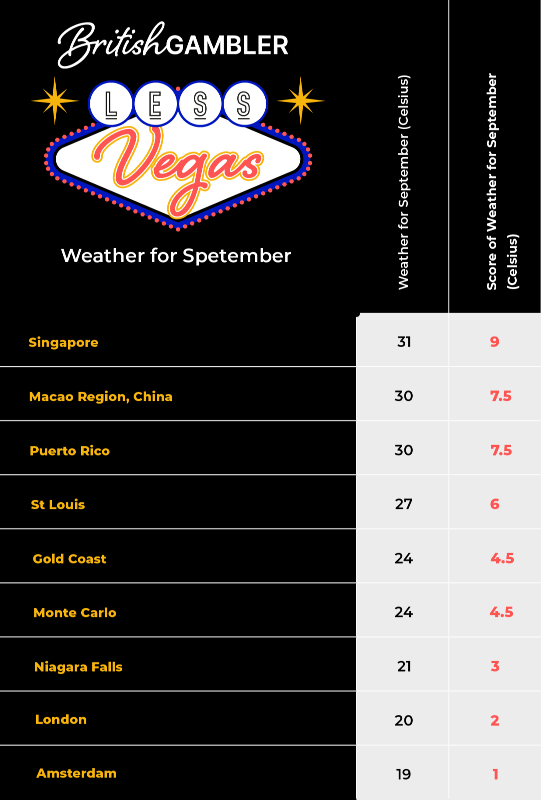 The average price of a beer
Did you know the average price of a beer in Las Vegas is £4?
Did you know the average price of a beer in Las Vegas is £4? Considering the average cost of a beer in London is £6, this doesn't seem wildly unreasonable.
However, you can get far more for your money in Macau.
This location scored the best when it comes to average beer prices.
Here, you can enjoy a cold refreshing pint for, on average, just £1.20. Meanwhile, Puerto Rico boasts low beer prices too, with the average cost of a pint setting you back £2.50.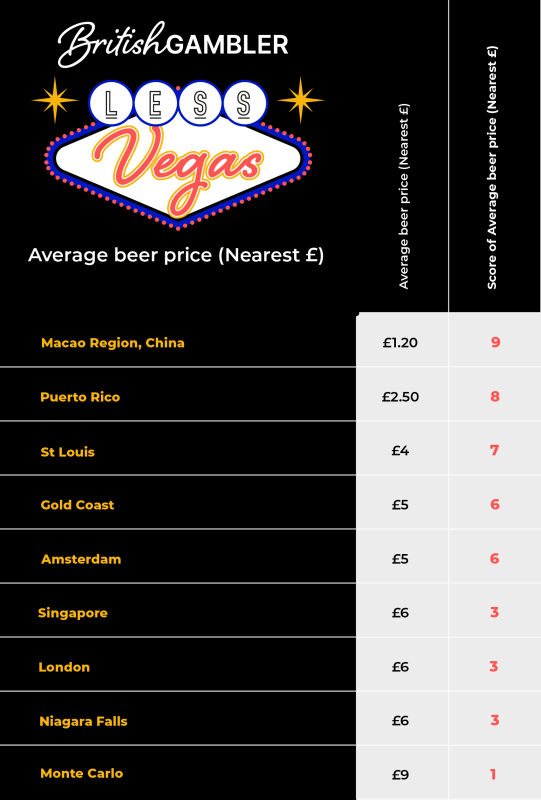 Instagram popularity
Instagram can tell you a lot about a place – especially hashtags. During our research process, we took to the social media platform and looked at how many hashtags each of our destinations had.
London peaked with the most hashtags, with a staggering 158,000,000 uses of the hashtag #London.
Amsterdam was second with 43,000,000 hashtags, while Las Vegas took the third spot with 42,000,000.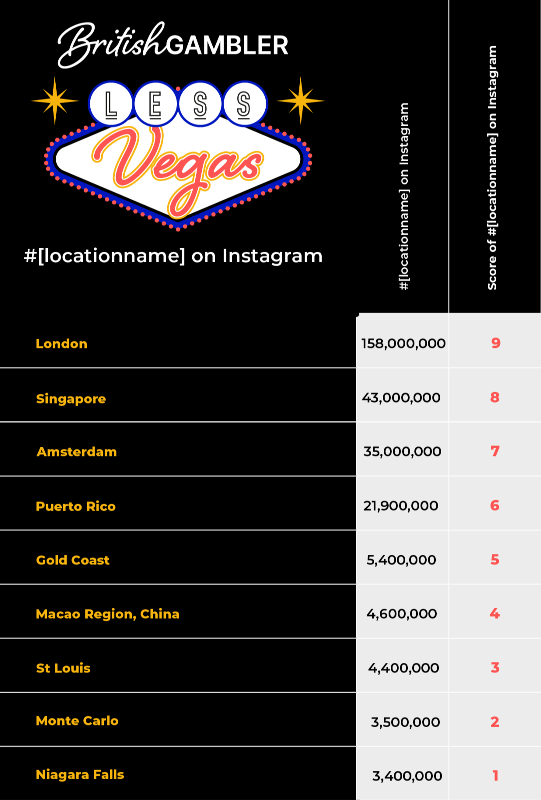 Popular gambling destinations: The average monthly search volume
We also looked at the average monthly search volume for each location. Our data shows that Las Vegas is the most frequently searched destination – with 73,000 people, on average, searching for the term 'Flights to Las Vegas' each month.
Following behind is the search 'Flights to Puerto Rico', with an average of 51,000 people using this term, while an average of 24,000 searches are made for 'Flights to London' each month.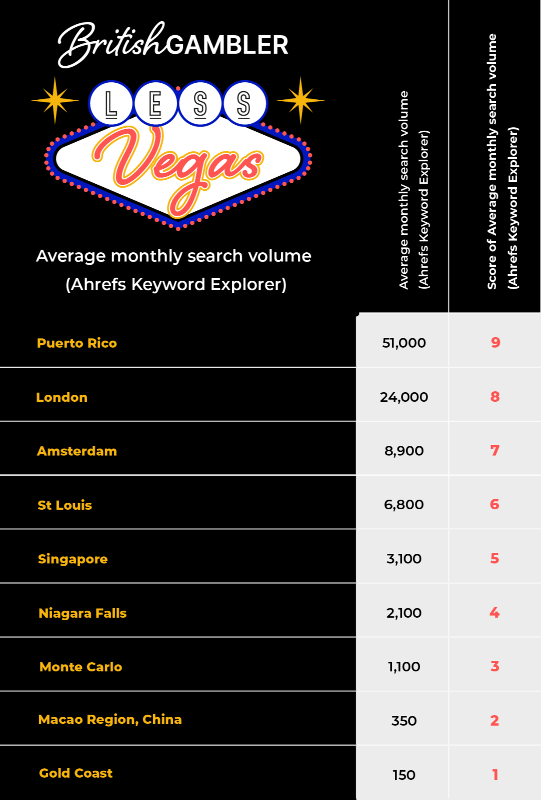 The number of casinos
Las Vegas is synonymous with casino culture. Many travellers head to Sin City to see if they can hit the jackpot by putting their gambling skills to the test. But it's not just this Nevada city that is well equipped when it comes to casinos. According to Google, London boasts 53 casinos. So, if you're already based in the UK and you want to try your luck with a little Blackjack or Roulette, it could be that you needn't travel very far at all. This could be ideal if you'd rather avoid the long flight time or soaring temperatures of Las Vegas. Alternatively, you could of course choose to gamble online. British Gambler is an expert gambling website, showcasing a list of the most popular and trustworthy online casino and betting websites in the UK.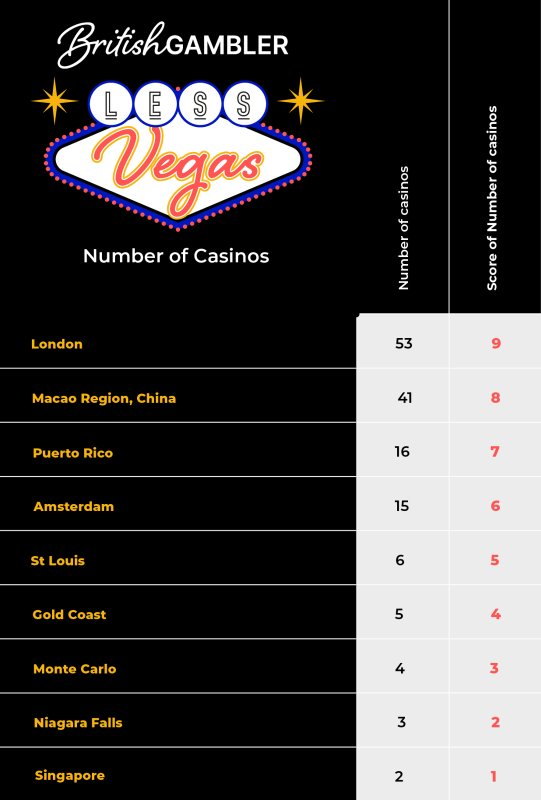 Best alternative place for gambling. And the winner is…
So, which of our gambling destinations scored the highest overall?
Puerto Rico proved itself to be a favourable alternative to Las Vegas for many reasons.
Firstly, there is a significant price difference when it comes to return flights. While the average cost of a return flight to Las Vegas is £1,756, Puerto Rico came in £1,227 cheaper with return flights costing £529.
Puerto Rico boasts slightly cooler average temperatures of 30°C for September making it the ideal spot if you prefer more manageable weather than Las Vegas offers.
Average monthly Google search volumes show Puerto Rico is nearly as popular as Vegas. Sin City racks up a monthly average of 73,000 searches for 'Flights to Las Vegas', while the Island of Enchantment falls closely behind with 51,000 average monthly searches.
Which of our locations takes your fancy for your next gambling getaway? Let us know using #LessVegasGetaway.